InJoyelry
Below are some of the bling that InJoy Gifts has designed. Because we care, we want our Injoyelry to be hypo-allergenic so that it will be able to be worn without any risk to the recipient. All of our hooks and bracelet clasps are sterling silver without the nickel. We're continuing to add new designs to our Bling department. Boxes are included with your purchase. Please call us with your order to send some joy today.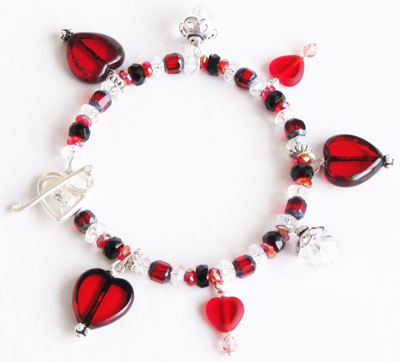 Glistening Heart Bracelet
Elegant multicolored crystals with a sterling silver heart shaped clasp will be the perfect accessory to a romantic night on the town.
$46.95
Red Heart Earrings

Let her know that you have her ear and more importantly her heart. These glass heart shaped earrings complement the Glistening Heart Bracelet above.

$18.95

Blue Pendant Heart Earrings

These dangling, delicate blue glass heart earrings will be a welcome addition to any ensemble.

$13.95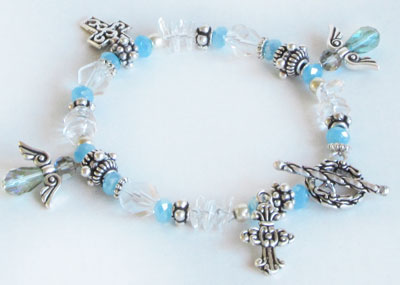 Blue Angel Bracelet

A beautiful expression of faith with this blue crystal angel and silver cross charm bracelet. A perfect pairing with our blue angel earrings above. We can customize with birthstones of your children. Please call us for a quote.

As shown $46.95
Blue Angels

These Swarovski Crystals with pewter angel's wings will be the angels watching over her. Look fabulous with black attire, bluejeans and just about anything in between!

$16.95

Antique Angels

Swarovski crystals and copper gilded wings will be perfect angels to watch over you and will receive many compliments.

$13.95
Cardinals Earrings

Score a homerun and take her out to the ballgame with these earrings! Your Cardinal's fan will be living in style with Fredbird like Baseball earrings with Red Swarovski crystals.

$18.95

Silver Celtic Knot Heart Earrings

Simple, yet effective. These silver hearts, embossed with a Celtic knot will look smashing with any attire...dress up or dress down.

$14.95

Champagne & Sable

The toast of oppulance. These Champagne faceted Swarovski Crystals are paired with Mocha Bicone Crystals. Perfect for a night on the town or to dress up your earthtone fashions.

$16.95





Sapphire & Crystal

A statement of regal elegance. These Sapphire faceted Swarovski Crystals are paired with Iridescent Clear Crystals. Perfect to match those blue eyes or pairs well with that little black dress!

$16.95
Black Shadowbox

Black Swarovski Crystal Cubes dangle inside these adorable silver shadowboxes. This pair will complement any fashion that you wear. You're sure to be the focal point with these earrings.

$16.95

Aqua Mocha Shadowbox

Our shadowbox earrings are so popular, that we've added popular fashion colors with an aquamarine Swarovski Crystal Cube and Mocha bicones to complement.

$16.95

Garnet Shadowbox

A perfect pair to where anywhere. The garnet Swarovski Crystal Cubes are set off in the silver shadowboxes and the black crystal bicones are the laignappe! An InJoy favorite.

$16.95

Smokey Shadowbox

Smokey Swarovski Crystal cubes dangle inside the silver shadowboxes for a dazzling combination of smoke and silver.

$16.95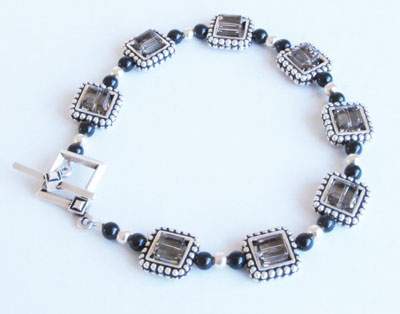 Smokey Shadowbox Bracelet
A perfect complement to our smokey shadowbox earrings, with silver and onyx ball accents. Our sterling silver clasp coordinates perfectly!
$62.95
Hues of Amethyst Bracelet
A gorgeous selection of Swarovski Crystals in amethyst tones with clear cut disc accents will sparkle and receive much applause on any wrist that adorns it. Hues of Amethyst bracelet pairs with our Amethyst Serendipity earrings below.
$62.50
Amethyst Serendipity

These Swarovski Crystal earrings are light and elegant. They look stunning paired with our Hues of Amethyst Swarovski Bracelet, shown above. Great for a night out on the town or perfect with a casual black turtleneck!

$16.95

Clear Serendipity

Iridescent Swarovski cubes that pick up an abundance of colors are a perfect pair with our zipper bracelet, shown below. The elegance is understated but will definetly be noticed!

$16.95

Iridescent Serendipity

These Swarovski Crystals glisten with iridescent shades of aquamarine, purples and are complemented with Mocha Crystals. Sure to accessorize any outfit.

$16.95

Stained Glass

A blend of antique and a touch of

folk charm. These glass beads paired with garnet glass will accessorize so many items in your wardrobe. Wear them well...you'll never tire of the compliments you'll receive on our stained glass earrings.

$18.95

Copper Glow

Simple yet effective. The pairing of coppertone with blush Swarovski Crystals dresses up the casual with an eye-catching design.

$16.95
Copper Globes

These Copper and silver globes are out of this world and so light weight. Very unique and sure to receive many compliments!

$17.95

Blue Ice

This pair are a dream! The iridescent clear cubes hold the dangles of aqua iridescent beads atop clear iridescent discs. The whimsical ear hoops set off this design to give a remarkable presentation.

$17.95

Aqua Zebra

Make quite the nouveau statement with these fusion glass earrings of aqua blue & black...goes great with jeans...blue or black or even with that crisp suit!

$18.95

Sassafras

The blue stone paired with textured silver beads and the lime turquoise beads will get rave reviews. Oh so eye and compliment catching!

$16.95

Tiger Eye

Unique and eyecatching! The tiger eye bicones, intermingle superbly with turquoise and lime turquoise and no only will they complement so many of today's fashions but compliments will be received each time that they are worn.

$18.95
Amber Waves

The amber zebra glass are the focal point of these soulful earrings. Iridescent plum beads and cut antiqued violet blue crystals give an expressive performance.

$18.95

Chiffon

Oh the look of hues of pinks and garnet. A great look with spring and summer fashions. The whimsical ear wires give this pair balance.

$17.95

Verde

The Malachite stones are the focal point in these resplendent earrings. the combination of green with crystal brings any casualness up a notch.

$18.95

Vanguard

The onyx v shaped beads hold clear Swarovski crystal with graphite cut crystals and a unique clear cut center bead with black center. Quite the trendsetter!

$18.95
Paten Peacock

These iridescent spheres are linked with aqua marine Swarovski Crystals and a clear paten with aqua marine center to give a remarkable presentation for your ears.

$16.95

Paten Indigo

Iridescent Indigo Spheres comingle with amethyst Swarovski Crystals, indigo crystals and a clear paten with indigo center. Uniquely yours.

$16.95